Because holy crap, it looks like yarn!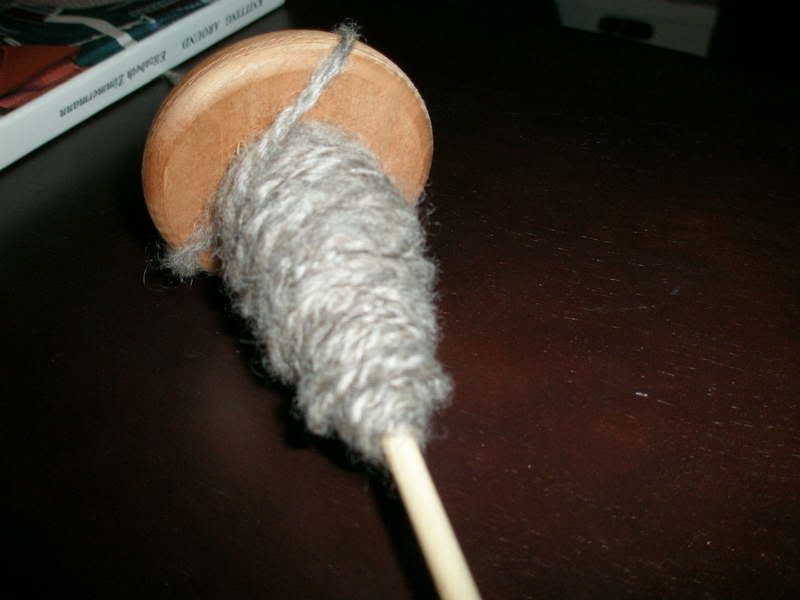 I thought about another few minutes of spinning from the roving tonight, but instead, inspired by finding the new home of
I Can Spin
and reading in
Spin to Knit
about Andean plying, I figured, hey, why not? So that's Janet's First 2-ply. I desperately want to knit it up, but into what? I can hardly believe it's yarn, but it sure looks like it! Of course, I think there's still some stuff I'm supposed to do with it before I knit it, but we'll get to that. It's slubby and uneven and odd and I love it and I want to play more now.
I also got EZ's
Knitting Around
at the library today (along with that spinning book and a lovely one about folk shawls that take way more yarn than I have, boo), and it is making me want to buy and study every last one of St. Elizabeth's books. She's just lovely. I'm thinking about her Moccasin Socks for Summer of Socks, along with everything else, and there's a lovely Norwegian mitten pattern.
And tonight during the IRL Texas Night Race I finished the heel flap on the second SeaWool sock. I decided to not turn the heel tonight due to the wine I'd consumed during the race, but that should happen tomorrow and I'll go back to work on Monday all good and partially gusseted.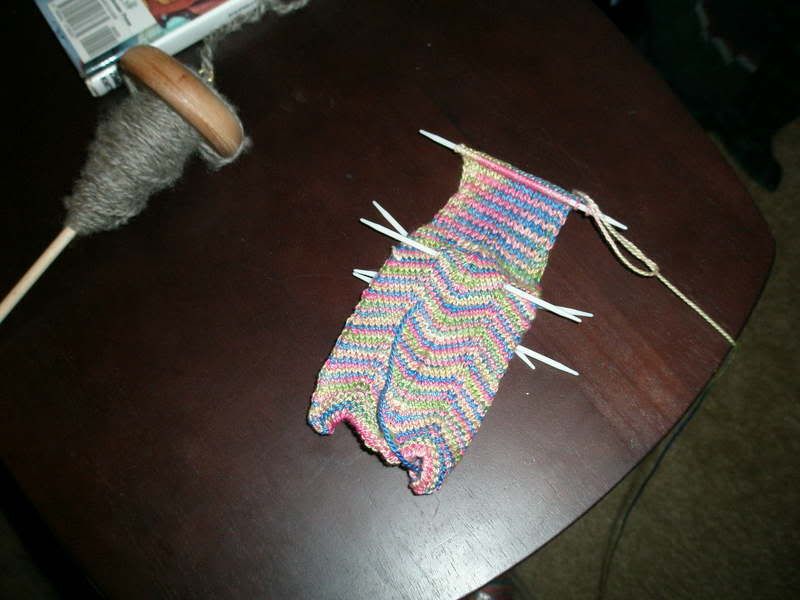 And a psa: Ball Band Dishcloths are crack. I'm going to cast on my third any second now. Seriously. I wish I could stop, and I resolved to stop after the second, but then I was shopping for a bridal shower gift last night and when I realized that I had cotton in the bride's registered kitchen towel colors, I pulled the yarn and almost cast on immediately. And while digging through the cotton stash I thought of another one to make for my mom. And that one I'd have to buy cotton for. So don't start. I can't figure why these dishcloths are doing this to me, but
surely I'm not the only one.
I'm going to go play with the yarn I made now. Have a good Sunday!