I am such a homebody. Seriously. If I work all week, I find it terribly burdensome to leave the house on the weekend. While I do get a little cabin-fevery if I'm home All the Time, I mostly like to stick close to the nest. So this weekend, when we had to amuse my Dad on Saturday, and went to the largest single-day sporting event in the world on Sunday, it's nice to have a day to spend at home in my jammies.
Wanna see what happened yesterday?
And no, I didn't leave the sock in the car. I lied. We were at the track early enough I figured why not bring the knitting in? I put it away when the spectacle began, and when we started getting crowded. There was other driving around this weekend too, so look how much is done!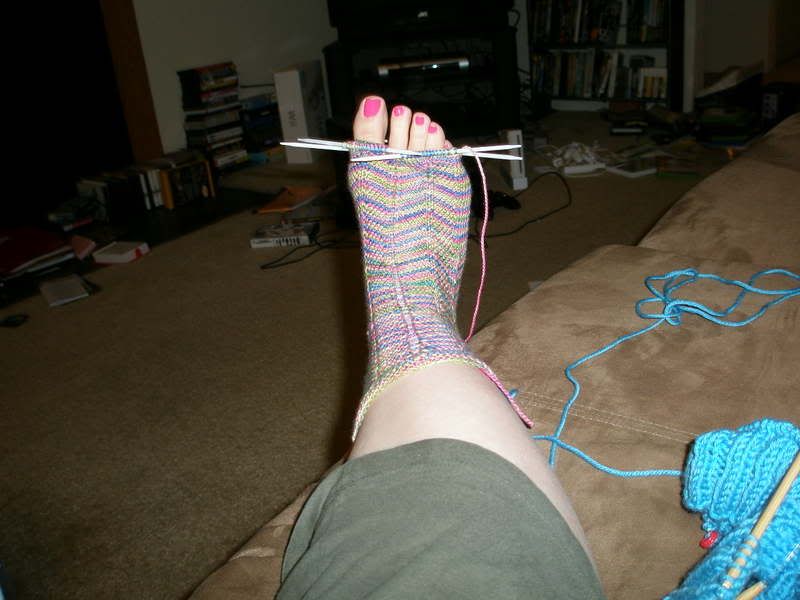 That sock only needs a toe to be done. And a mate. It's pretty. I'm so pleased. Oh, and look!
It's a sweater! It fits onto me and around my middle, which is why there are two circulars' worth of ends in that tangle there, and I'm so pleased about that I could spit. I was a bit worried about that whole "fitting" thing. I have no delusions that this sweater will be pretty. I was really only hoping for "wearable" and "comfortable," and will strive for "attractive" on later projects. I figured with this that at the very least this will keep me warm about the house this fall and winter. But I was worried, and am no longer. This is happy.