This almost got mailed today. It would have, had I not had the stupidity to not realize that the post office can't get a box to people without the address of said people. Jackie will have to wait till next week for her Latin Granny blanket. Not that she knows it's coming. I went to high school with her parents. Jackie's their second child. This is very strange to me, as I have no maternal urges at this point. But the point is, had I remembered to bring their address with me as I ran errands this afternoon, I wouldn't have been able to take this photo tonight:
The border is two rounds of single crochet in different directions. Works pretty well, I say. What else have I been up to? How bout that sweater?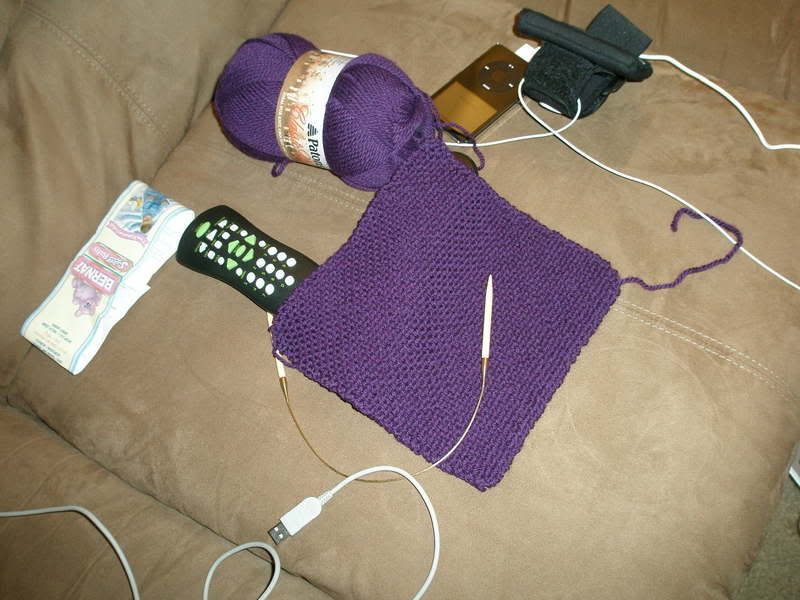 Oh. Nope, purple Greensburg block. The Addi is happy. I'm still not sure it's "invest in a whole set" happy, but I believe in its superiority over Clover. I'm considering a Denise set. It just makes some sense.
This is how I'm spending Friday night: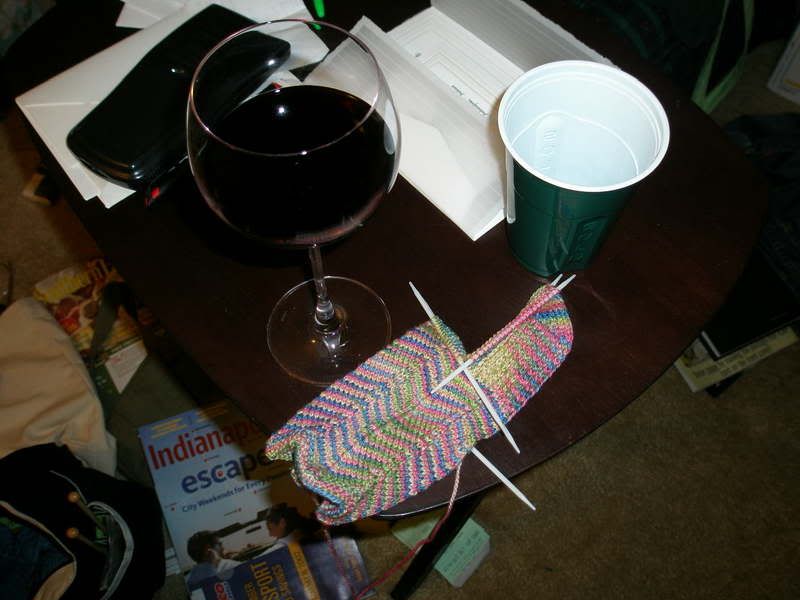 Wine is Red Truck, which is increasingly not my favorite. It gets better as it breathes, but that's also as I drink it, so I'm not sure that's an actual thing. The bottle's darn cute, though. The sock's got its heel turned and not much else. I think I want to finish this pair before Summer of Socks, which might be difficult, or maybe not. Generally I get such a high after finishing a sock that I want the second one immediately and drop everything till it's done.
Speaking of Summer of Socks, I have six pairs of socks' worth of yarn - besides the ones in progress. I've decided that since I miss the plain stockinette that the self-striping yarns can be that. I'd been planning on doing some
Jaywalkers
or
Broadripples
or something, but the SeaWool ballband pattern is basically the same as the Jaywalkers (pump up the gauge, turn them 1/8 of a turn and trade garter for ribbing), so I'm saying been there, done that, and going on. The grey will be that way too, although I'm not sure it stripes, I think the variegation is more subtle than that. They'll be man socks, they shouldn't be too pretty. I'm going to make jeweltoned
Monkeys
for my Mom's birthday this fall, and red
Rainy Day
socks for me. I also have beautiful blue variegated Bearfoot (read - mohair blend sock yarn!) that needs to be special socks. But right now I'm not sure what they'll be. I don't want them to be too flashy, the colors are gorgeous enough. I'm thinking about a garter rib pattern or something similarly simple. That's three pairs of patterned socks, and three ordinary knit-in-traffic jams (I'm not yet cool enough to knit at the movies, not that I really go to movies) pairs. I'm considering having two pairs on the needles at a time, but really, that seems excessive. Doing 12 socks serially should get me through the summer, what with the move and working and all, don't you think?
Project monogamy is a nice idea, but I think it wouldn't work for me. I'm striving for project bigamy and sock monogamy. Not counting Greensburg squares, because they're easy and I can do them while reading archival
Yarn Harlot
. Which is where the purple one came from.