Seriously. I told you about my rockin' haul yesterday. Wanna see? Here!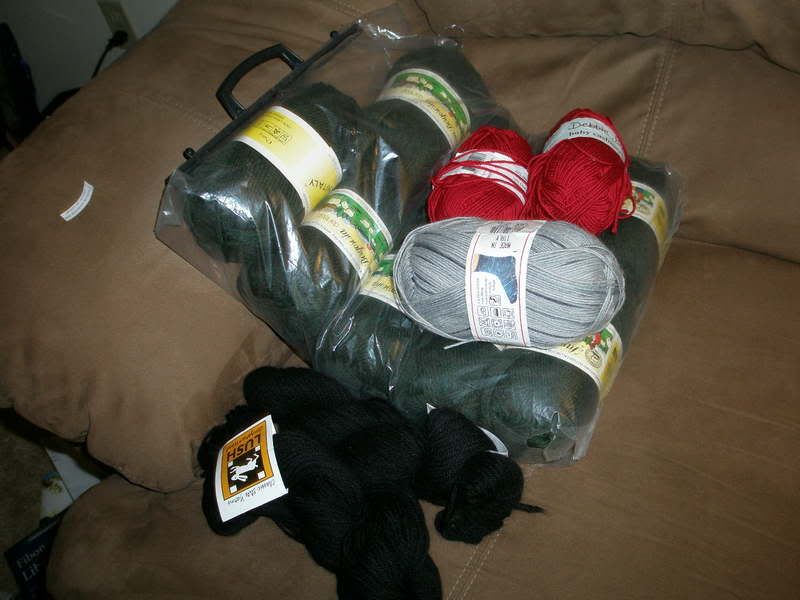 It's happy and yummy. And right now, I'm not touching it. I got home and posted and eventually turned on my podcasts because Wednesday's a No TV night (btw, is Project Runway ever returning? I miss it), and buckled down and did something else.
All seams are done, all ends woven in. It's not done yet. I still need a crocheted border, which will require at least four more ends woven, but I'm not sure about which shade to do it in. The light pink would be easiest, but I think one of the extreme ones would be prettier. So I'm stymied on that for a little while. I'll probably ask opinions at yarn collective tonight. Eric can tease me more about not being finished with it.
So this is what I'm doing today.
Yeah, that resolution to not start the sweater till the pink blanket was done? I decided that its one-piece-ness was good enough for that. So the ribbing for Janet's First Sweater, which is being adapted from The Sweater Workshop by Jacqueline Fee, is begun. Ribbing annoys me. I don't know how much longer I can do that. The purple thing is another Greensburg block, and an excuse to try out my new Addi. I do kind of love it, but I'm not sure it's twice as good as my friend Clover. I'm going to try Mandie's baby shorts pattern soon and maybe playing with it in the round will make me believe. But the fact that I bought a bunch of new yarn and the things I decide to do have nothing to do with it? Kind of bugs me. Like I didn't need new yarn or something. And we know that's not possibly true. I've been thinking of returning for Lopi for a felted bag of some kind. I've been thinking I could use a felted messenger bag. Probably I could use a couple in different sizes, don't you think?
And there's the TiVo remote and what I'm currently reading. I'm trying to reread the Harry Potters before the new book comes out. I'm trying to rush through this one because it's not my favorite. For a long time I thought it was the weakest of them, but the stuff that happens in it really matters later. It's still not my favorite. I think it's Gilderoy Lockhart. He's especially grating on the seventh or eighth read-through. Although I have to say of the covers this might be the best. But I've got about two months to get through them, so I should be all right there, even with the huge later ones. Plenty of time to read and knit. Sometimes simultaneously.