This is a pile of most of what I've been working on lately. First, stuff that's done!
This is the LA-bound hat for Kid Brother. Yarn is Paton's Classic Wool in deep olive, I think? Pattern from
Never Knit Your Man a Sweater
- though the gauge in that pattern is smoking crack. When it claims 3 stitches an inch for a hat about 17 inches around unstretched, and then tells you to cast on 112, you know something's wrong. I think they're counting ribs, truth be told. Whatever. Easy project. Kind of embarrassed it took me this long. Very plain hat. Kid brother should like it.
Then!
The Mason-Dixon Ballband dishcloth. This one was happy. Mostly done on Saturday. (See? I can knit fast sometimes!) So quick, fun, easy! And because you never see the wrong side of this thing:
This was done in Lily Elite Cotton from the stash. Wal-mart clearance impulse buys making themselves useful. The cloth, however, is amazing. Poofy and squashy and textured like a dishwashing dream. I think. I'm saving it to use in our new house. I'm nesting. :) And because I have guilt about having a new house when some have none:
It's a garter stitch block for
Rebuilding Greensburg
. Leftover wool from the kid brother hat and other white Patons wool. Boring, but made me feel like I wasn't so selfish for ignoring this: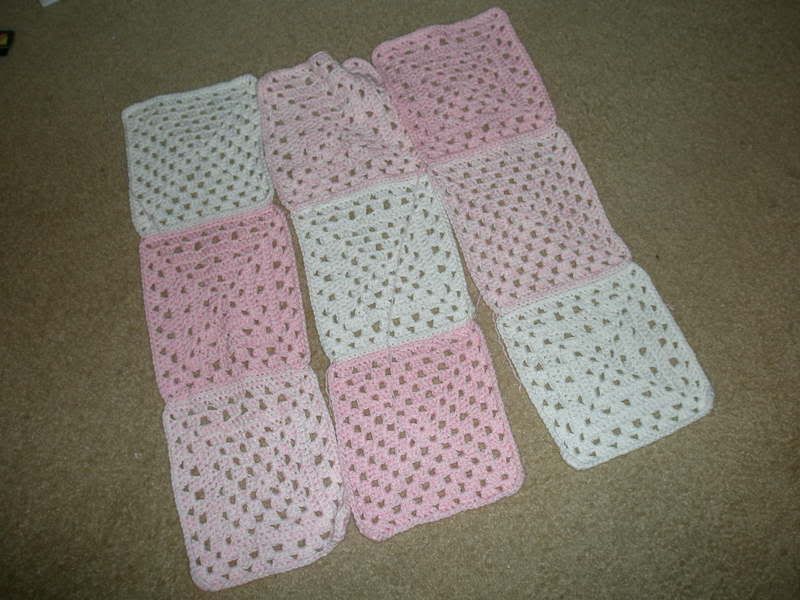 Little Girl Latin Granny still has two seams. But they're long ones. I'm so embarrassed. And then a border. That'll be the easy part. Need to get this one done.
But aren't you doing any socks lately, you ask? Well, yeah. Here!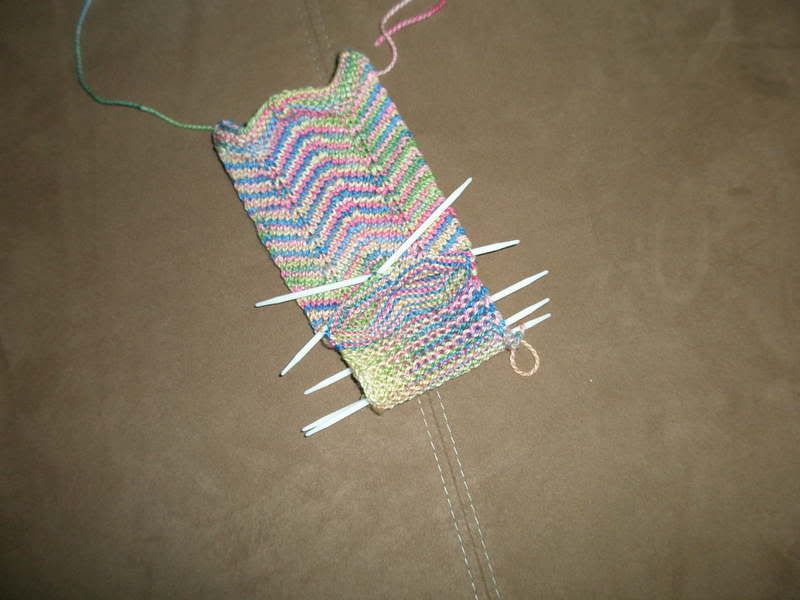 And because I'm in love with how the silly slipped-stitch heel is striping:
Yes, that's my ridiculous tan line from knitting through opening day at the speedway. Not going to be doing that this weekend, though. I'm not saying I won't have a project in the car, but I can't see knitting actually during the race. Not to mention someone I'm married to would have serious issues with it. And probably the people squished in around me wouldn't enjoy it much either.
I have the rest of the week off. Yarn shopping will happen. If I get through tomorrow without buying yarn, someone should slap me. Between visiting the store in the process of closing and the one whose annual sale starts tomorrow, I should be good. Or bad. Whatever. Just say my inner consumer might be let loose to play for a day or so.
I've got so many things in my head that I want to make. I'll talk about them later.